Экспорт прямых инвестиций и повышение конкурентоспособности страны
Ключові слова:
экспорт прямых инвестиций, транснационализация компаний, развитые страны, развивающиеся страны, страны с транзитивной экономикой
Анотація
В статье рассмотрены особенности экспорта прямых инвестиций и транснационализации компаний из стран с транзитивной экономикой в сравнении с аналогичными процессами в развитых и развивающихся странах. Выявлены значительные сходства с развивающимися странами, а также особенности, связанные с источниками формирования конкурентоспособности транснациональных компаний, мотивами и стратегиями экспорта прямых инвестиций.
Посилання
World Investment Report 2011: Non-equity modes of International Production and Development. - New York, Geneva: United Nations, UNCTAD, 2011. - 251 p.
Kalotay, K. Russian Transnationals and International Investment Paradigms / K. Kalotay // Research in International Business and Finance. – 2008. – Vol. 22. – P. 85–107.
Sass, M. Hungarian multinationals a strong presence in neighborhood, survey finds/ M. Sass, O. Kovács// The ICEG European Center in Budapest, the Vale Columbia Center on Sustainable International Investment. - 2011. - 26 p.
Johanson, J. The Internationalisation Process of the Firm - A Model of Knowledge Development and Increasing Market Commitment / J. Johanson, J-E. Vahlne // Journal of International Business Studies. -1977. - Vol. 8. – P. 23-32.
Dunning, J.H. Multinational Enterprises and Global Economy. Second edition/ J.H. Dunning, S.M. Lundan. – Cheltenham: Edward Elgar, 2008. – 960 p.
Kogut, B. Foreign direct investment as a sequential process / B. Kogut // The Multinational Corporation in the 1980s. - MIT Press, Cambridge, 1983. - P. 38-56.
Cantwell, J. A survey of theories of international production / J. Cantwell // The Nature of the Transnational Firm / ed. C. Pitelis, R. Sugden, London: Routledge, 1991. - P. 16-63.
Globerman, S. Outward FDI and the Economic Performance of Emerging Markets / S. Globerman, D. Shapiro. Prepared for International Conference on the Rise of TNCs From Emerging Markets: Threat or Opportunity? - Columbia University, New York, October 24-25, 2006. – 49 p.
Jaklic, A. Survey ranking Slovenian multinationals finds them small and vulnerable, but flexible and increasingly international/ A. Jaklic, M. Svetlicic// The Centre of International Relations (CIR), University of Ljubljana, the Vale Columbia Center on Sustainable International Investment (VCC). - 2009. -13 p.
Kuznetsov, A. Investment from Russia stabilizes after the global crisis/ A. Kuznetsov, A. Chetverikova, N. Toganova// The Institute of World Economy and International Relations (IMEMO) of the Russian Academy of Sciences, the Vale Columbia Center on Sustainable International Investment (VCC), 2011. - 37 p.
Juliussen, S. Foreign Direct Investment in Estonia. Local Outcomes of Global Processes / S. S. Juliussen // Department of Geography, The University of Bergen. - Spring, 2008. - 97 p.
Jaklic, A. Slovenian outward foreign direct investment/ M. Svetlicic, M. Rojec // Facilitating Transition by Internationalization. Outward Foreign Direct Investment from Central European Economies in Transition. - Aldershot, Burlington USA, Singapore, Sydney: Ashgate Publishing Ltd., 2003. - P. 205-225.
Svetlicic, M. Outward foreign direct investment by enterprises from Slovenia/ M. Svetlicic// Transnational Corporations. – 2007. - Vol. 16, № 1 (April 2007). - P.55-88.
Tavares, A.T. FDI and Multinationals: Patterns, Impacts and Policies/ A. T. Tavares, S. Young// International Journal of the Economics of Business, 12 (1), 2005. – P. 3-16.
Kumar, K. Third World Multinationals: A Growing Force in International Relations/ K. Kumar// International Studies Quarterly, 26 (3), 1982. – P. 397-424.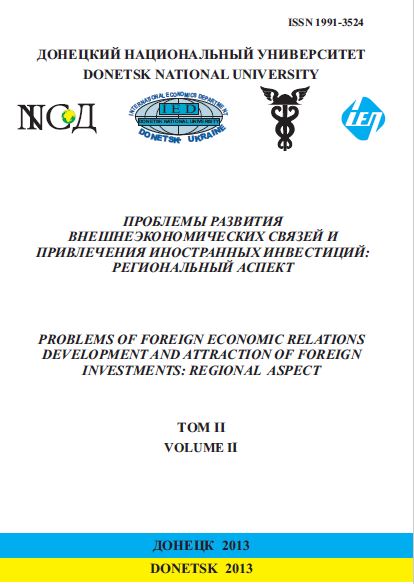 ##submission.downloads##